Halbautomatische Kapselfüllmaschine CapCN-Semi Pro Drawer Type
Recommend
Video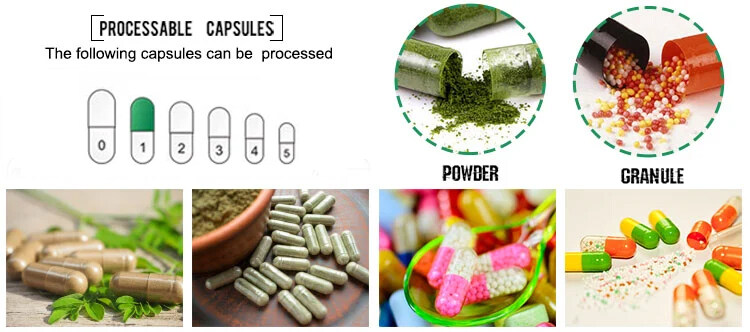 Introduction
Diese Maschine verfügt über ein Programmiersteuerungssystem, einen Touchpanel-Betrieb, eine stufenlose Frequenzumwandlungsgeschwindigkeitsregelung, eine pneumatische Gelenksteuerung und ein elektronisches automatisches Zählgerät, das die Kapselpositionierung, -trennung, -füllung, -verriegelung und andere Aktionen automatisch abschließen kann. Die Fülldosis ist genau und die Bedienung ist bequem. Der Körper und die Arbeitsfläche bestehen aus Edelstahl und das Produkt erfüllt die Anforderungen von GMP. Es eignet sich zur Kapselfüllung von pulverförmigen und körnigen Arzneimitteln.
Specifications
| Model | CapCN-Semi Pro |
| --- | --- |
| Output | 1-25000 pcs/hour |
| Applicable capsules | 0#, 1#, 2#, 3#, 4#,5# |
| Total power | 4 kw |
| Vacuum Pump(evacuation rate) | 40m3/h |
| Air pressure | 0.03m³/min,0.7MPa |
| Dimensions(LxWxH) | 1140*700*1630mm(L*W*H) |
| Whole weight | 330kg |
Praktikabilitäts-Upgrades

Die ursprünglich im Gerät installierten Innensechskantschrauben werden durch Außensechskantschrauben ersetzt, die nicht einfach zu lagerndes Pulver und bequemer zu reinigen sind, wodurch die Kreuzkontamination von Materialien gelöst wird.
Die Installation des Hauptnetzschalters kann alle Arbeiten direkt unterbrechen, ohne das Gerät auszuschalten, um den Schaltkasten zu öffnen und dann die Stromversorgung auszuschalten. Und die Position des Not-Aus-Knopfs wurde geändert, Sie können ihn ausstrecken und berühren. Es ist einfacher, im Notfall damit umzugehen.
Oxidierte Schleifscheibe: Der Oberfläche wird ein Schutzfilm hinzugefügt, um die Korrosionsbeständigkeit, Oberflächenhärte und Verschleißfestigkeit der Oberflächenschicht zu verbessern, die Lebensdauer der Schleifscheibe zu verlängern und leicht zu reinigen.
Trichter auf Edelstahl SS316 aufgerüstet
Die verschlossene Schutzhülle ist aufgewertet und schöner
Die Austragsöffnung ist lösbar ausgebildet, wodurch das Problem der schwierigen Reinigung von Materialresten an der Austragsöffnung gelöst wird; Ein neues Formschalengestell wurde installiert, um den Betrieb mehrerer Schalen bequemer zu machen.
Sicherheits-Upgrade

Die Breite der Arbeitsfläche erreicht ca. 85 cm, was den Sicherheitsabstand erhöht.
Die Arbeitsfläche wird in ein einzelnes Stück Edelstahl umgewandelt. Die Kante der Arbeitsfläche wurde vom ursprünglichen rechten Winkel in die abgerundete Ecke geändert.
Der Verriegelungsvorgang muss die Doppeltaste drücken, um zu funktionieren, und die Betriebssicherheit ist besser gewährleistet.
Verriegelungszeit von 18 Sekunden auf 12 Sekunden reduziert.
Der Kapselzuführmechanismus wird vom Maschinentisch unter den Maschinentisch bewegt, was den körperlichen Aufwand des Bedieners stark reduziert und die Ermüdung des Bedieners wirksam lindert.
Das Materialrückgewinnungssystem reduziert den Materialabfall und die Materialrückgewinnungsgeschwindigkeit und reduziert die Umweltverschmutzung in der gesamten Werkstatt.
Bewertungen
This machine is easy to operate and safe, cleaning is also very convenient!
From: Yirui | Datum: 08.04.2022 01:27
War die Bewertung hilfreich?
(

0

/

0

)
Schreiben Sie Ihre eigene Bewertung
Bietet Auch
New Arrival
Verwandte Produkte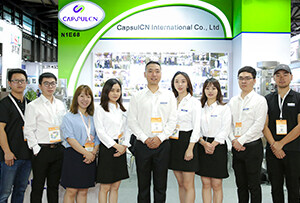 Our Team
As an expert in the pharmaceutical and pharmaceutical packaging industry, iPharMachine has provided solutions for hundreds of pharmaceutical and health product manufacturers for 17 years. By visiting customers, we get good reviews from our customers.
Kürzlich angesehen