NJP-1200D Hohe füllende Genauigkeits-automatische Kapsel-Füllmaschine
Recommend
Video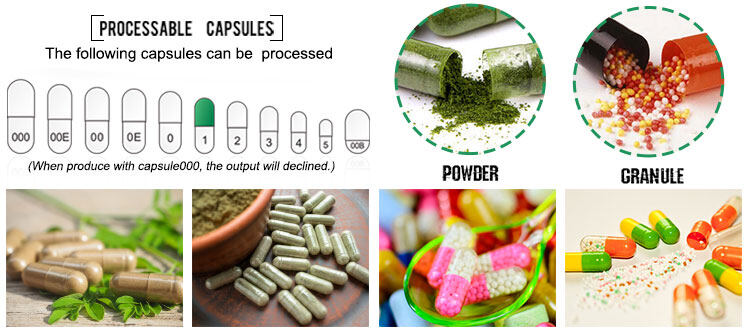 Introduction
Der automatische Kapselfüller NJP-1200D verarbeitet die Produkte für eine optimale Produktivität von bis zu 1200 Kapseln pro Minute und zeichnet sich durch einen wartungsarmen Betrieb, minimale Ausfallzeiten und eine insgesamt zuverlässige Produktion aus.
Die Pulverdosierung verwendet die 5-Stufen-Stopftechnologie für eine verbesserte Genauigkeit. Abfüllung von Pellets möglich.
Kapseln aus dem Bunker werden der Ausrichtvorrichtung entlang der vertikalen Führung zugeführt.
Dann werden sie in spezielle Zellen auf dem Rotor überführt. Hier wird die Kapsel abgetrennt, wonach das Unterteil in die Füllposition kommt.
Nach dem Befüllen des Unterteils mit dem Material werden an nächsten Positionen die nicht vereinzelten Kapseln aussortiert und die befüllten Unterteile mit Oberteilen verbunden, gezählt und in die Aufnahmebox abtransportiert.
Features
Das geteilte Design des Kapsellademechanismus und die patentierte vollständig geschlossene Struktur verhindern, dass die Kapseln unsachgemäß in den Kapselübertragungsraum fallen, und stellen sicher, dass die Kapseln reibungslos funktionieren.
Der patentierte Pulverfüllmechanismus umfasst mehrere patentierte Techniken wie den unregelmäßigen Mehrflächen-Pulverhalter, die seitlich abgewinkelte Zuführung usw., wodurch sich das Pulver gleichmäßig im Pulverlagerraum verteilt, korrekt und reibungslos in die Kapseln fließt und eine extreme Leistung erzielt präziser Kapselfüllprozess.
Die patentierte modulare Stanze sowie der binodale Einfülltrichter sind einfach zu demontieren und genau zu positionieren.
Der patentierte integrierte Drehtisch mit Ultrapräzision hat Eigenschaften wie geringe Größe, geringe Belastung, lange Lebensdauer, drei Jahre öl- und wartungsfrei und so weiter.
Der gesamte Satz der Formen und alle Teile, die täglich gereinigt und gewartet werden müssen, sind mit Fixierstiften ausgestattet, und die Verbindung sowie die Befestigung zwischen verschiedenen Teilen ist äußerst einfach. Da das Befestigungswerkzeug in der Größe genormt ist, lassen sich mit einem kleinen Schraubenschlüssel alle Teile leicht demontieren.
Alle Anschlüsse der Luftleitungen verwenden standardisierte Klemmen, die viel einfacher zu demontieren und zu reinigen sind als andere.
Specifications
D Type Automatic Capsule Filling Machine
Machine Model
NJP-1200D
NJP-3000D
Max capacity
72000capsules /hour
165000capsules /hour
Suit for capsule size
00#-5# and safety capsule
00#-5# and safety capsule
No.of mould bores
9
21
Machine dimensions
980x980x2100mm
1610x1210x2180mm
Net weight
1000KG
2200KG
Power
380 / 220V 50 / 60Hz 7kw
380 / 220V 50 / 60Hz 11kw
Noise
<70dB
<70dB
C Type Automatic Capsule Filling Machine

Machine Model
NJP-800C
NJP-1200C
NJP-2000C
NJP-3500C
Max capacity
48000capsules/hour
72000capsules/hour
120000capsules/hour
210000capsutes/hour
Suit for capsule size
00#-5# and safety capsule
00#-5# and safety capsule
00#-5# and safety capsule
00#-5# and safety capsule
No.of mould bores
6
9
18
26
Machine dimensions
1080x1240x1930mm
1180x1340x1980mm
1500x1350x2100mm
1386x1156x2100mm
Net weight
800 kg
1000kg
1600kg
2500kg
Power
380V,50Hz,5.05kw
380/220v,50/60Hz,6kw
380/220v,50/60Hz,10kw
380/220v,50/60Hz,12kw
Noise
<75dB
<75dB
<75dB
<75dB
Remarks
Das Pulverfüllsystem hat eine sehr hohe Füllgenauigkeit.
Das vollständig geschlossene Design des Split- und Kapselzuführsystems verhindert, dass Kapseln unangemessen in die Kapseltransferkammer fallen, und gewährleistet einen reibungslosen Betrieb der Kapsel.
Das kapselartige Ausleitsystem schützt die befüllten Kapseln effektiv vor Bruch durch die Maschine.
Und der hochpräzise integrierte Drehtisch hat eine ähnlich kleine Größe, geringe Gewichtsbelastung, lange Lebensdauer, drei Jahre kostenlose Ölwartung und so weiter.
Bewertungen
I really like the 1 year maintenance-free function, and the engineers are also very convenient to maintain.
From: Sean | Datum: 27.02.2021 01:09
War die Bewertung hilfreich?
(

0

/

0

)
Schreiben Sie Ihre eigene Bewertung
Bietet Auch
New Arrival
Verwandte Produkte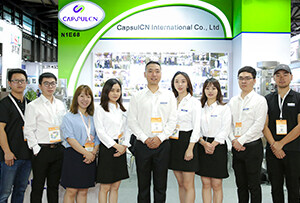 Our Team
As an expert in the pharmaceutical and pharmaceutical packaging industry, iPharMachine has provided solutions for hundreds of pharmaceutical and health product manufacturers for 17 years. By visiting customers, we get good reviews from our customers.
Kürzlich angesehen