Gummy Production
Gummy supplements and medications have gained popularity in the pharmaceutical industry due to their convenience and pleasant taste. Gummy production machines are essential for efficiently manufacturing these chewable products. iPharMachine is a leading provider of high-quality gummy production machines for the pharmaceutical industry. With a diverse range of machines designed to meet various production needs, iPharMachine is the go-to source for pharmaceutical manufacturers.
Die Ausrüstung zur Herstellung von Gelatine-Geleebonbons besteht aus einem Kochbereich, einem Ablagebereich und einem Kühlbereich. Die GD150-Linie verwendet einreihige Formen und kann je nach Gewicht der Stücke 100–150 kg Süßigkeiten pro Stunde produzieren. Die Form der Bonbons kann individuell an die Bedürfnisse des Kunden angepasst werden und es stehen verschiedene Designs zur Verfügung. Die Bonbons können in Einzel- oder Doppelfarben, mit Links-Rechts- oder Auf-Ab-Mustern hergestellt werden. Beispiele des Endprodukts finden Sie in den Fotos unten.
Bei dieser Verarbeitungslinie handelt es sich um eine fortschrittliche kontinuierliche Anlage, die für die Herstellung verschiedener Arten von Geleebonbons geeignet ist. Die Maschine verfügt über eine kompakte Struktur, stabile Leistung und bequeme Steuerung. Es handelt sich um eine ideale Ausrüstung, die nicht nur Arbeitskräfte und Platz spart, sondern auch qualitativ hochwertige Produkte produziert.
Empfohlene Produkte
New Arrival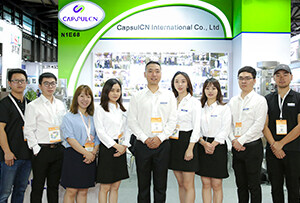 Our Team
As an expert in the pharmaceutical and pharmaceutical packaging industry, iPharMachine has provided solutions for hundreds of pharmaceutical and health product manufacturers for 17 years. By visiting customers, we get good reviews from our customers.