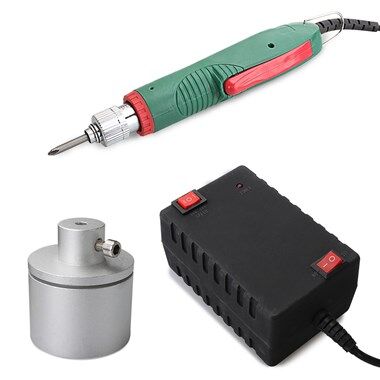 Introduction
Bei der Herstellung von Produkten, die in Plastikflaschen aufbewahrt werden, kann das Versiegeln dieser Flaschen sehr mühsam sein, da die Vorschriften verlangen, dass sie fest verschraubt werden. Das durchdachte Design der Schraubverschlüsse ermöglicht ein einfaches Öffnen und Schließen mit der Hand, aber das Verschrauben ist eine ganz andere Geschichte. Mit dieser Maschine kann der Benutzer die Flaschenverschlüsse so festschrauben, dass sie sich während des Transports oder der Lagerung nicht versehentlich öffnen können. Auch wenn ein Flaschendeckel zu fest aufgeschraubt wird, kann er beim Öffnen helfen, da er auch umgekehrt arbeitet.
Dies ist ein Handheld-Gerät, was bedeutet, dass Sie damit überall arbeiten können, wo sich eine Steckdose in der Nähe befindet. Das Halten in den Händen ermöglicht dem Benutzer einen besseren Halt und eine bessere Positionierung, so dass die Arbeit präziser wird.
Specifications
| | |
| --- | --- |
| Model | DTX-D |
| Capping Diameter | 10 - 50 mm (optional) |
| Capping Speed | About 25 bottles/min |
| Clutch | Adjustable |
| Voltage | 220V 50Hz/110V 60Hz |
| Dimension | 31 x 22 x 10 cm |
| Gross Weight | 2.5 kg |
Remark
Die Capping Machine ist einfach zu bedienen. Senken Sie den Verschließer einfach auf die Kappe, um ihn festzuziehen, und drücken Sie ihn vorsichtig nach unten. Die Maschine kümmert sich um den Rest.
Die Capping Machines bieten eine bessere Drehmomentgenauigkeit und sind komfortabler zu bedienen als andere handgehaltene Verschließmaschinen
Jeder Schritt wird getan, um sicherzustellen, dass Ihre Maschine perfekt für Ihre spezifische Aufgabe, Produktionsumgebung und die Kappen und Flaschen, mit denen Sie arbeiten, geeignet ist.
Das Paket wird geliefert mit: 1 x Verschließmaschine 1 x großes Futter 1 x kleines Futter 4 x Liner (einer für jede Größe von 10-20mm, 20-30mm, 30-40mm und 40-50mm) 1 x Bedienungsanleitung (auch verfügbar Download und Online-Zugang hier) 1 x M5 Sechskantschlüssel
Schreiben Sie Ihre eigene Bewertung
Bietet Auch
Recommend
Recommend
Verwandte Produkte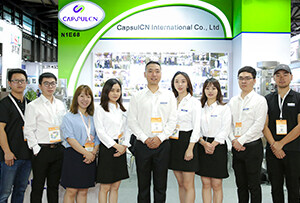 Our Team
As an expert in the pharmaceutical and pharmaceutical packaging industry, iPharMachine has provided solutions for hundreds of pharmaceutical and health product manufacturers for 17 years. By visiting customers, we get good reviews from our customers.
Kürzlich angesehen