ZP-29B Rotationstablettenpresse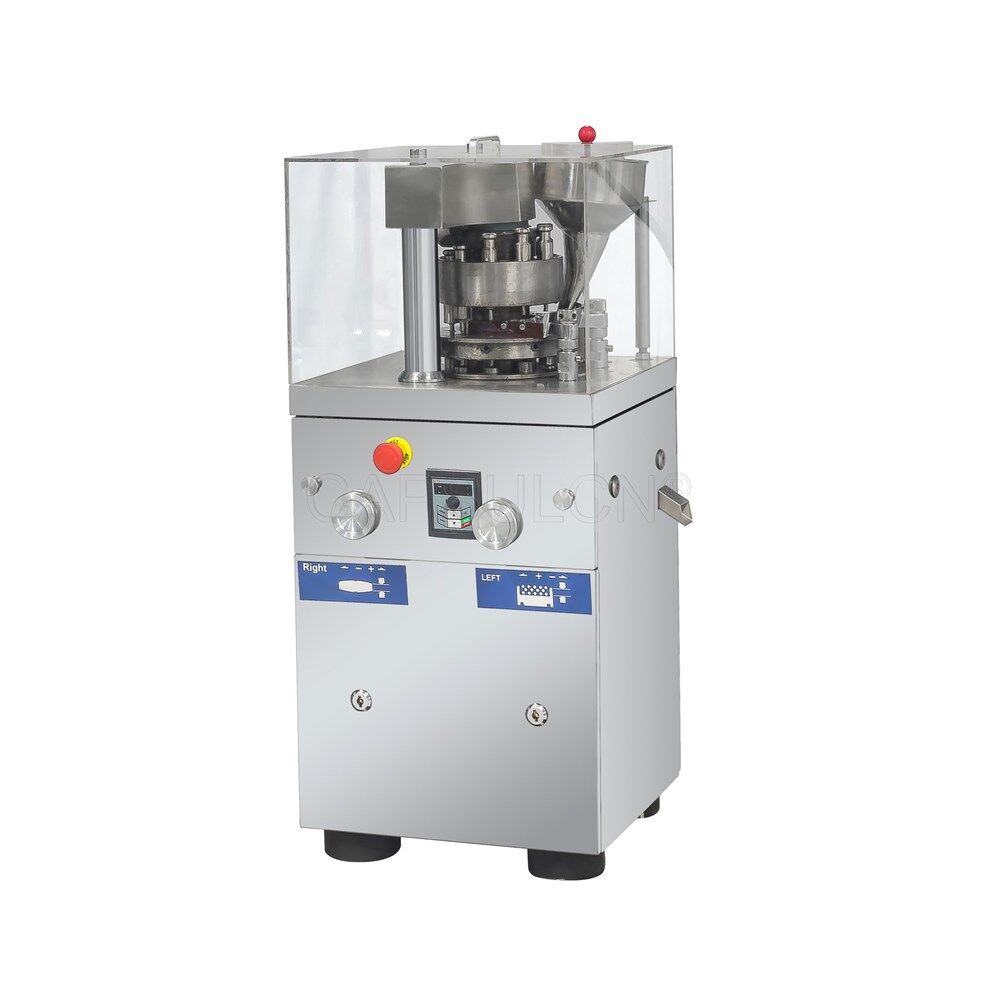 Big Promotions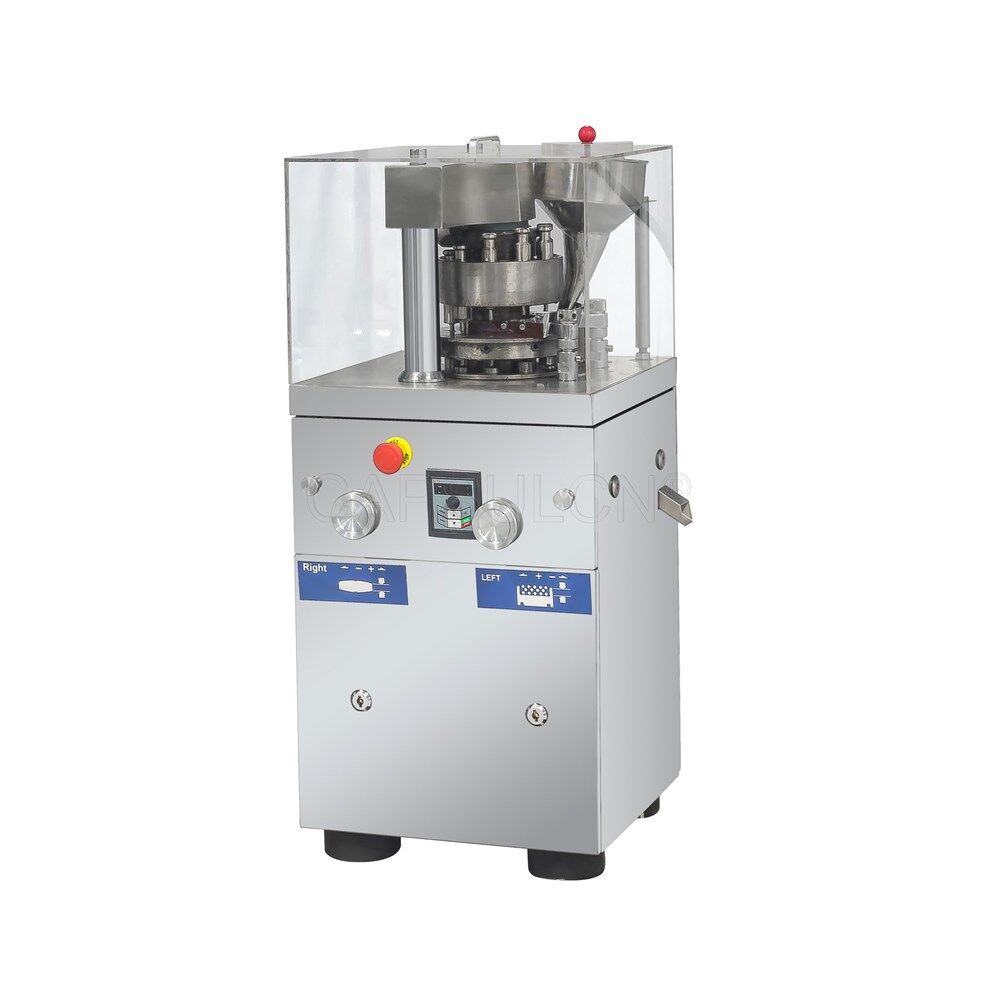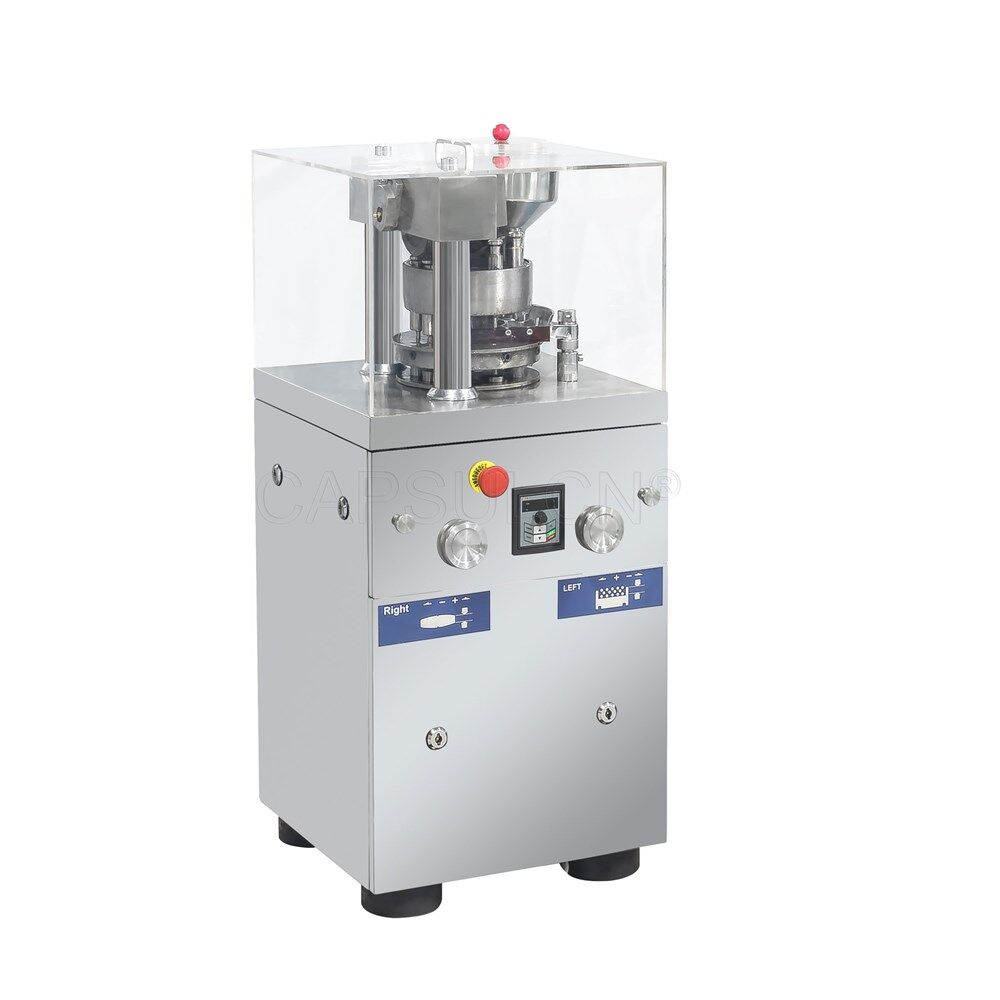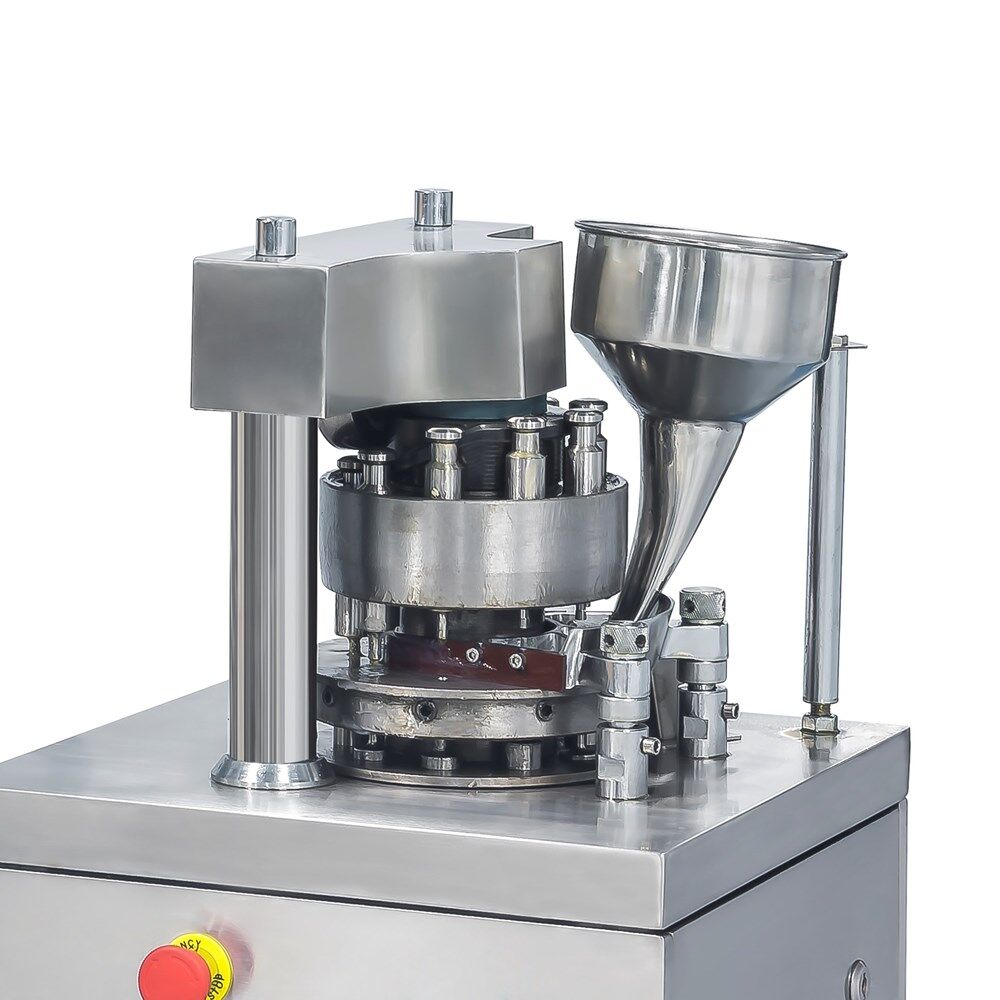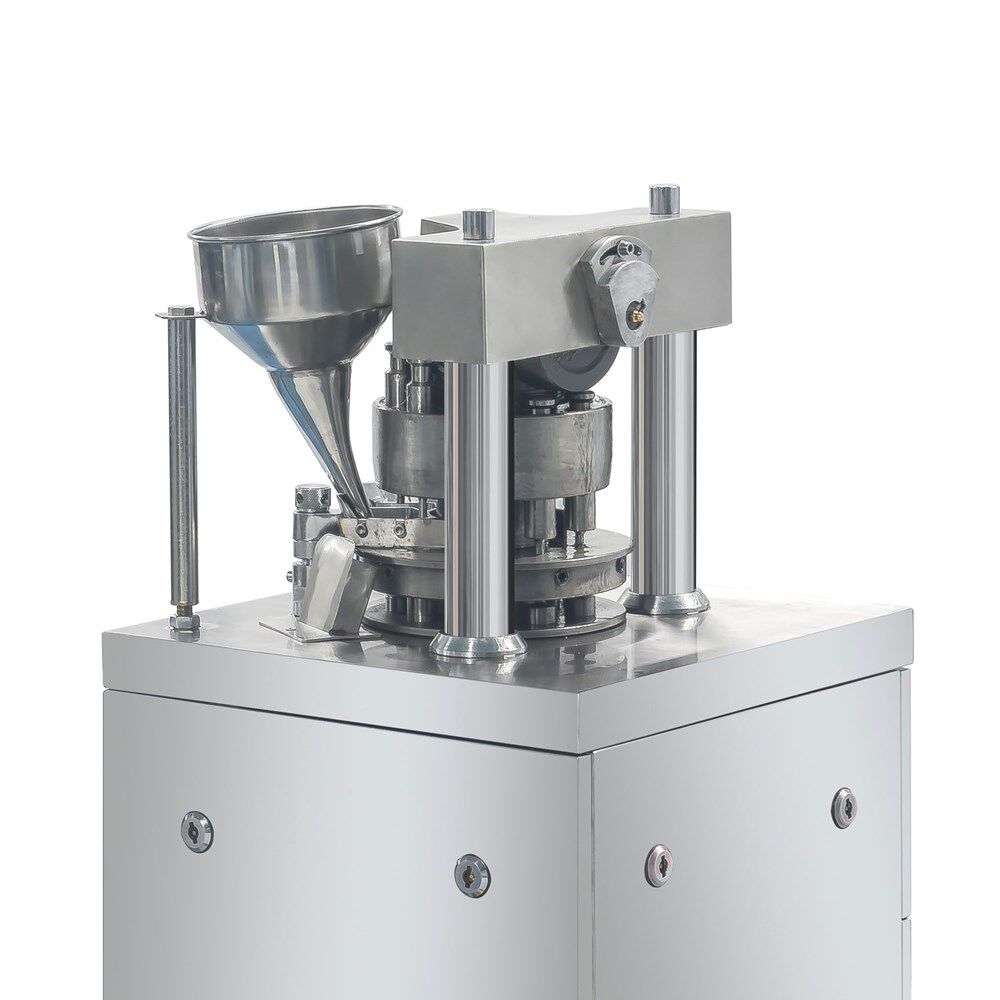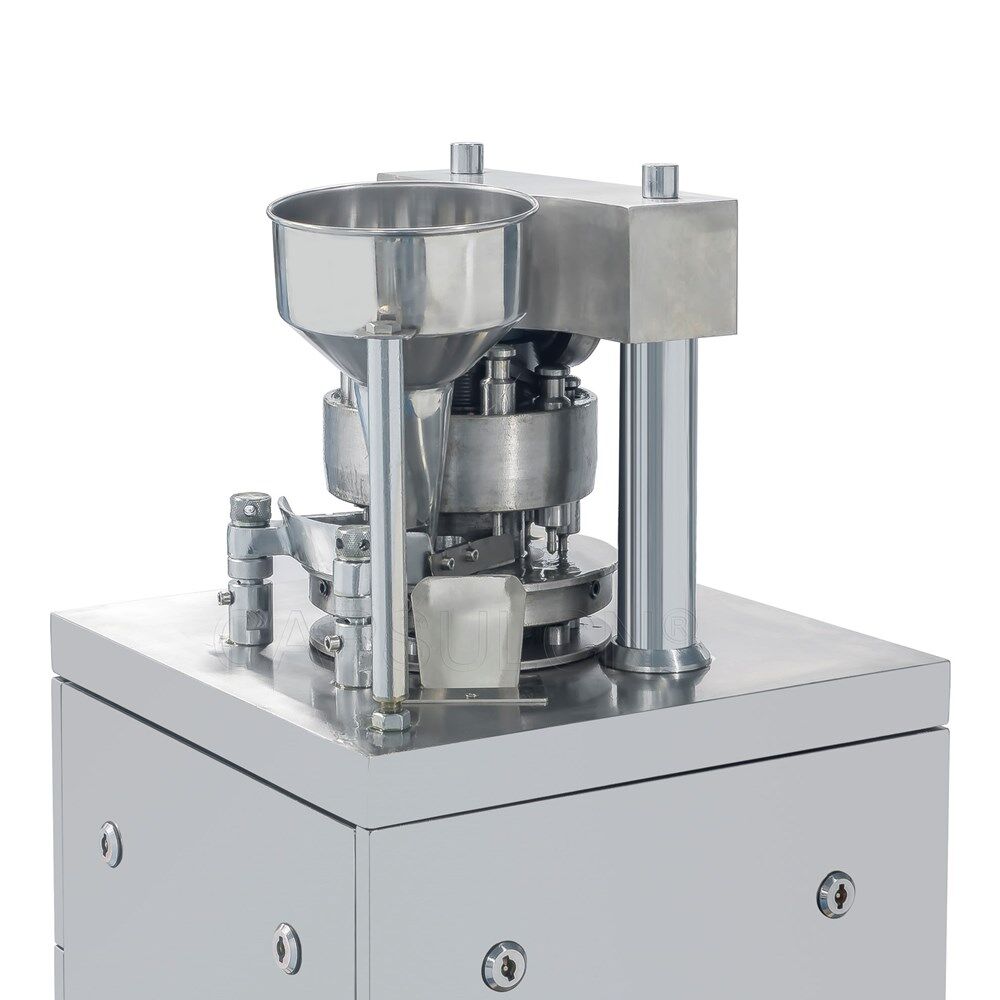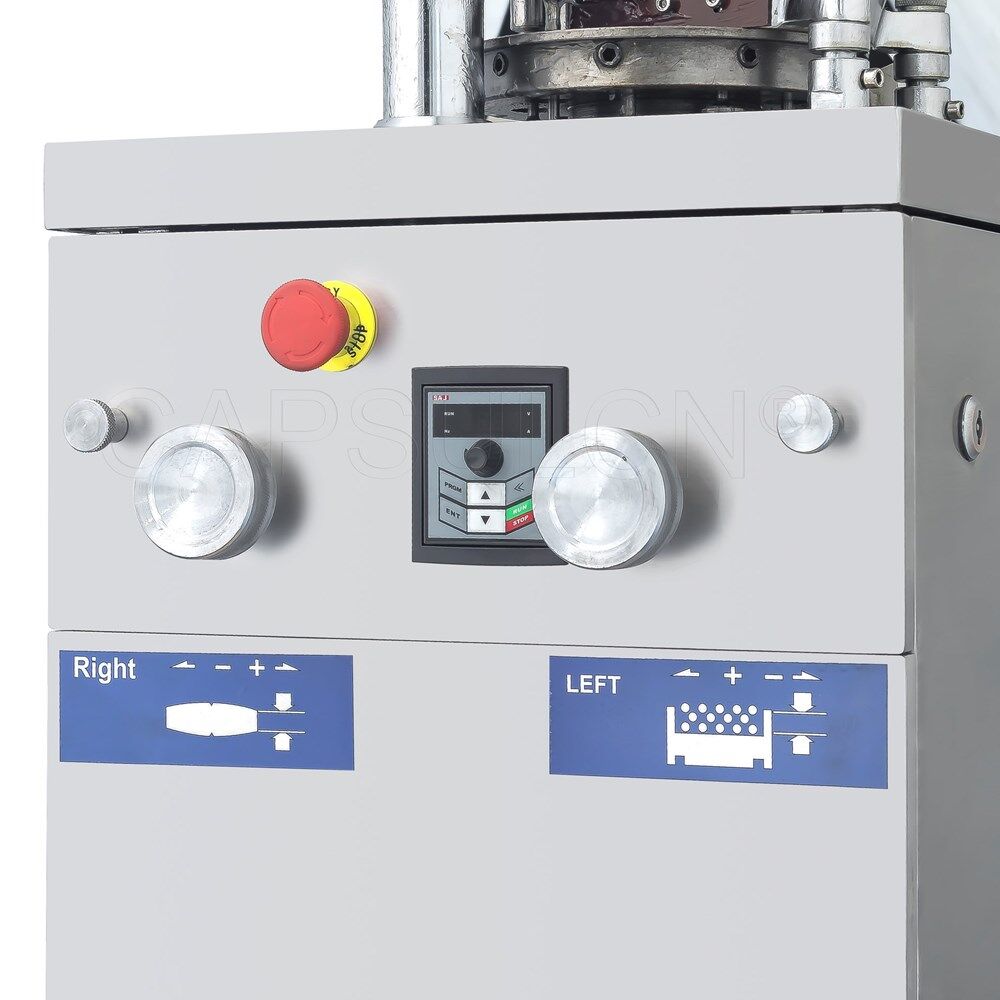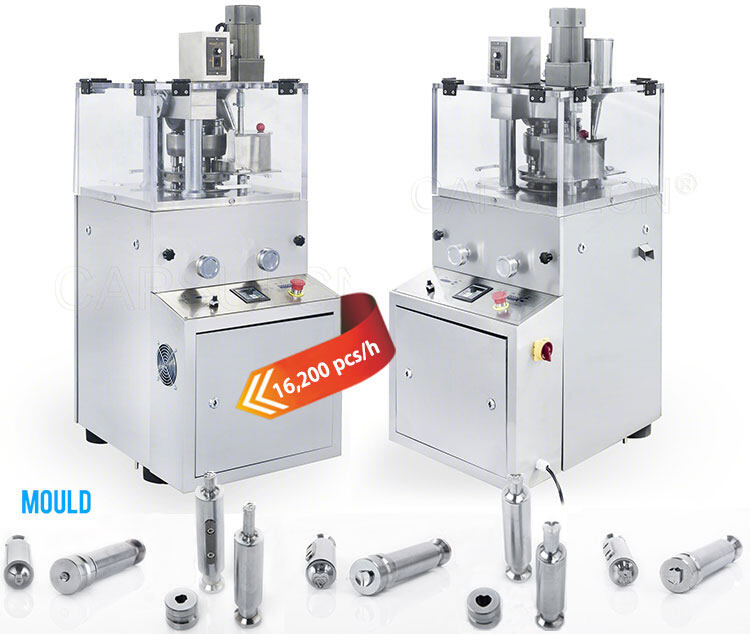 ZP Rotationstablettenpressmaschine
1. Diese Maschine integriert automatische Drehung, Frequenzumwandlung, Geschwindigkeitsanpassung mit kontinuierlichem Tablettenpressen. Es wird hauptsächlich für die Herstellung von Tabletten im pharmazeutischen Dauerbetrieb verwendet; Es gilt auch, das körnige Material in der Chemie-, Lebensmittel-, Elektronikindustrie usw. zu Tabletten zu pressen.
2. Diese Maschine eignet sich zum Pressen von körnigem Material, dessen Pulvergehalt (über 100 Löcher) unter 10 % liegt, und kann nicht zum Pressen von halbfestem, feuchtem Granulat verwendet werden. Niedriger Schmelzpunkt, leicht dämpfendes Material und das Pulver ohne Granulator.
3. Diese Maschine kann runde, speziell geformte und mit Zeichen gravierte Tabletten von 5 bis 20 mm herstellen.
Vorteile der Rotationstablettenpresse:
1. Garantiert eine höhere Leistung, da mit minimalem Arbeitsaufwand ein hohes Produktionsniveau erreicht werden kann.
2. Höhere Geschwindigkeiten sparen Zeit und ermöglichen es Ihnen, Ihre großen Produktionsanforderungen zu erfüllen.
3. Es reduziert Materialverschwendung.
4. Es ermöglicht die unabhängige Kontrolle des Gewichts und der Härte von Tabletten.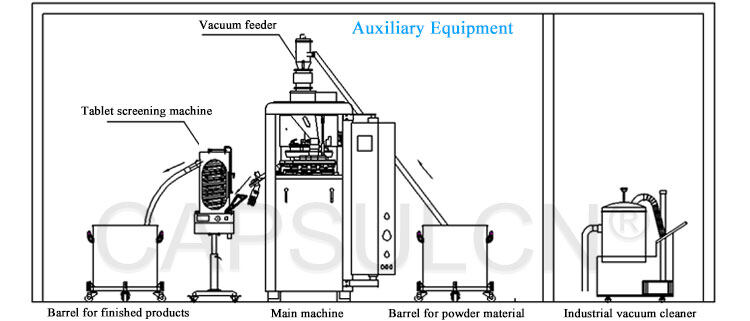 Introduction
Diese Maschine ist eine Art automatische Rotationsmaschine zum kontinuierlichen Pressen von Tabletten. Es wird hauptsächlich zur Herstellung von Tabletten in der pharmazeutischen Industrie verwendet. Es eignet sich auch für andere Industrien wie Chemie, Lebensmittel und Elektronik, um das Granulat zu Tabletten zu verpressen.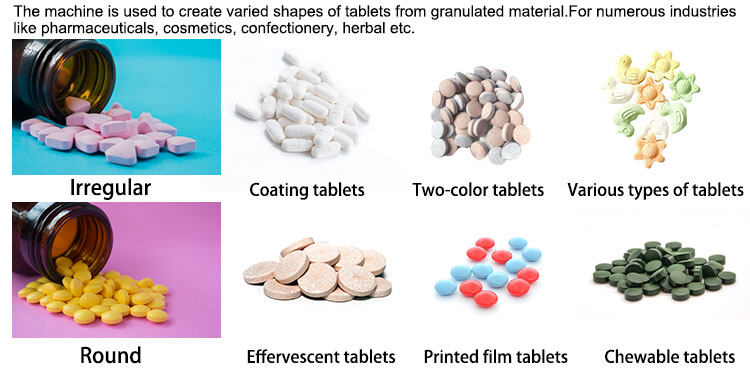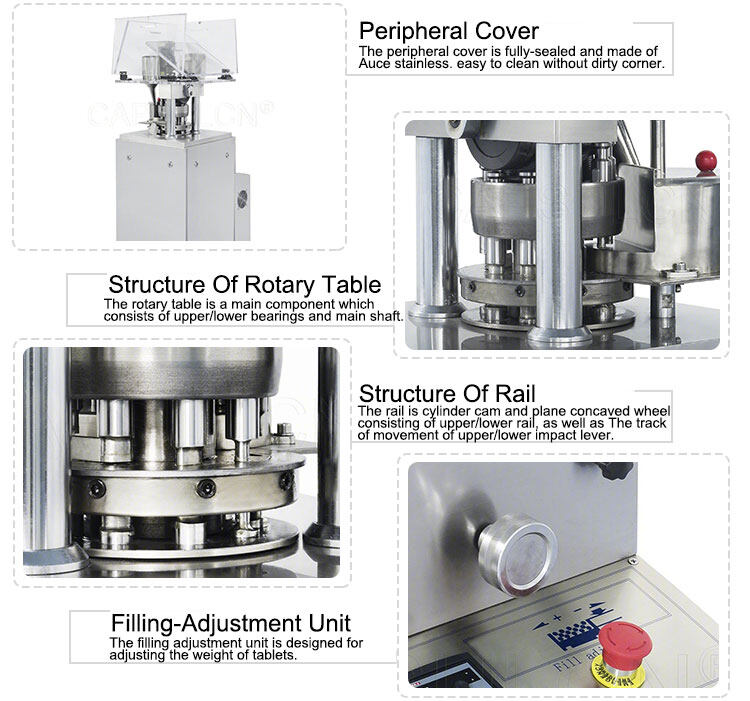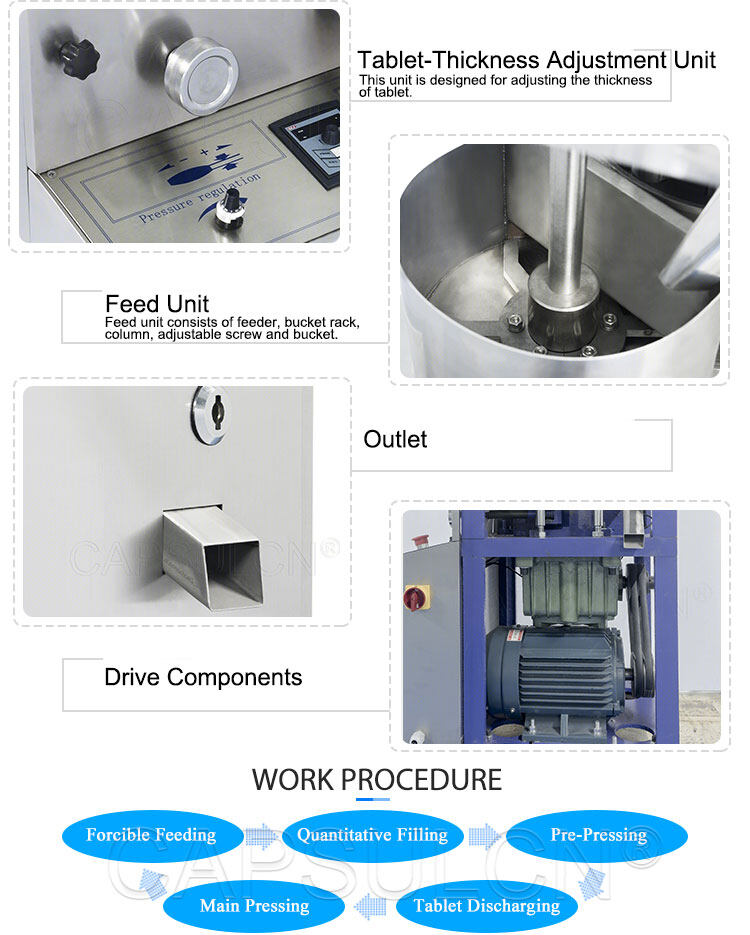 Specifications 
Punch quantity (set)
29
Max. tablet pressure (kN)
80 (Pre-pressure 500 kg)
Max. tablet diameter (mm)
20
Max. tablet thickness (mm)
6
Max. filling depth (mm)
15
Max. production capacity (pc/h)
80,000~120,000
Speed of turntable (r/min)
14~35
Pitch diameter (mm)
420
Diameter of middle punch (mm)
26
Height of middle punch (mm)
22
Diameter of upper and lower punch (mm)
22
Length of upper and lower punch rod (mm)
115
Main motor power (kW)
5.5
Dimension (LWH) (mm)

91

0

×

112

0

×

1650

Weight (kg)
2300
Remarks
Diese Maschine ist (im Rahmen des Maschinendrucks) auf körnige Rohmaterialien anwendbar, deren Pulvergehalt (mit einer Größe von über 100 mesh) nicht mehr als 10 % beträgt.
Diese Maschine eignet sich zum Pressen von gravierten oder nicht gravierten runden Tabletten mit einem Durchmesser zwischen 4 und 13 mm.
Diese Maschine ist nicht für Halbfeststoffe, Feuchtgranulate, Rohstoffe mit niedrigem Schmelzpunkt oder leicht zu erhaltendes feuchtes oder nicht körniges Pulver geeignet.
Es wird hauptsächlich zur Herstellung von Tabletten in der pharmazeutischen Industrie verwendet.
Schreiben Sie Ihre eigene Bewertung
Bietet Auch
New Arrival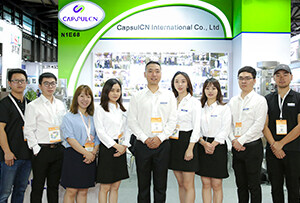 Our Team
As an expert in the pharmaceutical and pharmaceutical packaging industry, iPharMachine has provided solutions for hundreds of pharmaceutical and health product manufacturers for 17 years. By visiting customers, we get good reviews from our customers.
Kürzlich angesehen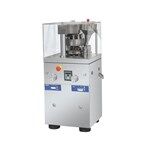 Big Promotions